Why Dollar savings on Accrue?
Dollar savings on Accrue helps you save your money in dollars while earning interest daily. With dollar savings, you can decide to stay away from the volatility of the crypto and stocks market and steadily grow your wealth daily. You also get to withdraw your money at any time without paying fees.
Dollar savings is essential for many of our users because it helps them steadily grow their money long-term. While it's not a complete cure, this feature helps you to an extent with protecting your money from currency devaluation.
How does it work?
It all starts with you downloading the Accrue app on Appstore or Playstore. Once you've done this, go through the KYC process, fund your account and move money to your savings pocket or savings goal. Once you've done this, you'll earn your first dollar interest after 24 hours; you get to see how your money grows daily. You also don't have to delay with fees. Just sit back and earn uninterrupted dollar interest; every day for 365 days.
Risks associated with dollar savings.
Dollar savings on Accrue offer guaranteed returns that are paid out daily, so If you're looking for a low-risk way of growing your money, this is definitely for you.
Types of dollar savings on Accrue
Here are the ways you can save in dollars on Accrue:
Savings pocket: Your savings pocket earns daily dollar interest; it lets you withdraw your money anytime without paying fees. With savings pocket, you earn 3.5% APY per annum.
Savings goals: Saving goals lets you save towards a goal. For example, you can save for going on a December vacation with friends. You can also invite friends to contribute to your savings goal. With savings goals, you earn 4% APY per annum
Fixed savings: Fixed savings lets you put money away for a chosen period. It's where you store money you don't want to get access to for a while. It offers 6% APY per annum.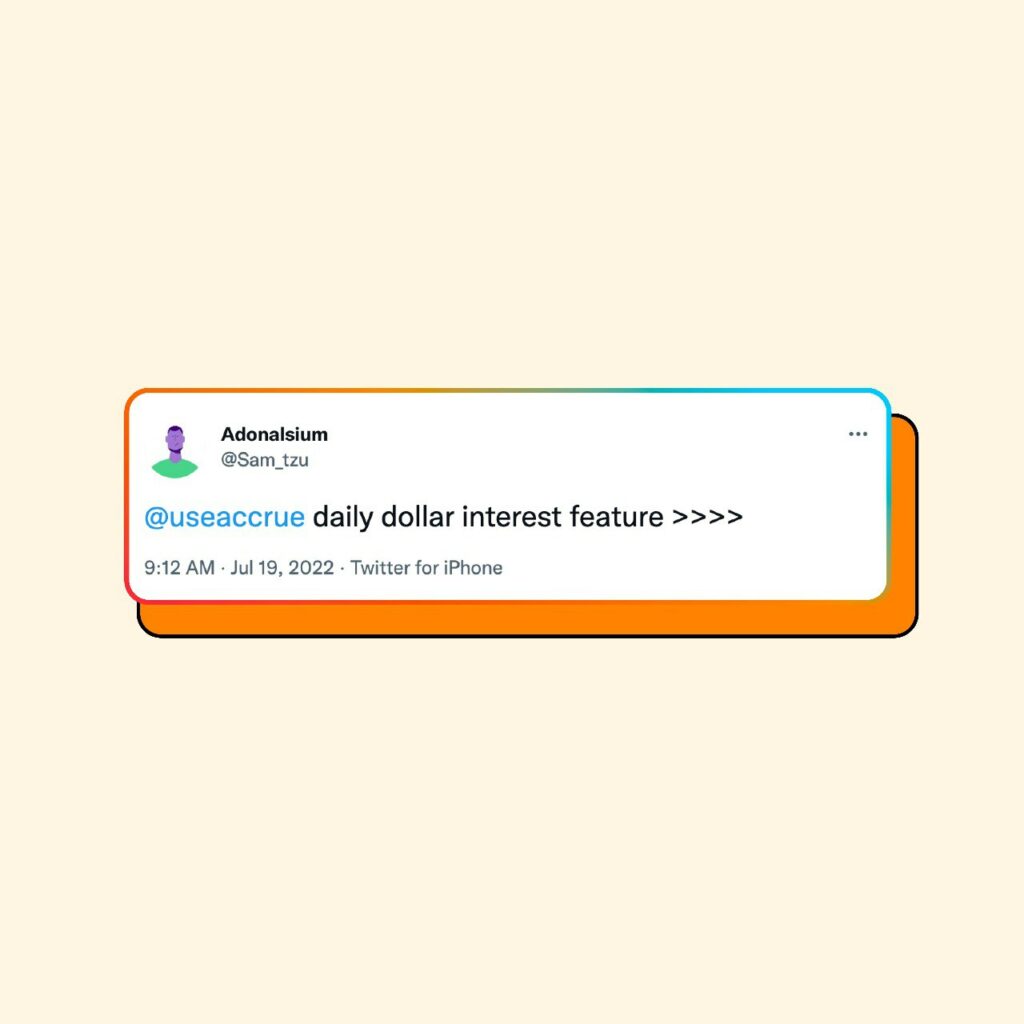 How to get the best of your dollar savings- long term
To get the best of your dollar savings on Accrue, you have to think long-term. Dollar savings as a short-term savings option may not be the best for you because:
You don't enjoy the benefits of earning.
You might sell your dollar investments at a lower exchange rate.
Consistency is how you win with investing: set aside an amount to invest daily/weekly/monthly. That way, you're investing in the high and low exchange rates. On average, you'd spend less converting your local currency to dollars for investing compared to someone who isn't consistent.