Sending money into Ghanaian bank and mobile money accounts has gotten much more tedious now that Wise has paused GHS transfers. This is a step-by-step guide to using Cash App and Accrue as an alternative to sending money to any Ghanaian bank or mobile money account in minutes.
Cash App is a P2P payment app that allows anyone to quickly send or receive $, and buy stocks or crypto. Accrue enables you to send and receive money across Africa in minutes, save in $, and buy stocks or crypto.
While Cash App lets you send and receive money, you can't send it to Africa. However, with the ability to buy Bitcoin, you can get around that constraint. Here's how to do so:
Step 1: Create your Accrue account, and generate a Bitcoin address. Here's how to do so:
Install the Accrue app. Open it and complete the signup process
Once you complete the signup process, you should be "Home"
Tap "Deposit", then tap "Cryptocurrency Deposit"
For the "Cryptocurrency" dropdown, choose "Bitcoin -> Portfolio"
For the "Network" dropdown, choose "BTC"
Toggle on "Auto-liquidate crypto deposits"
You should now see your BTC deposit address. Tap the "Copy" button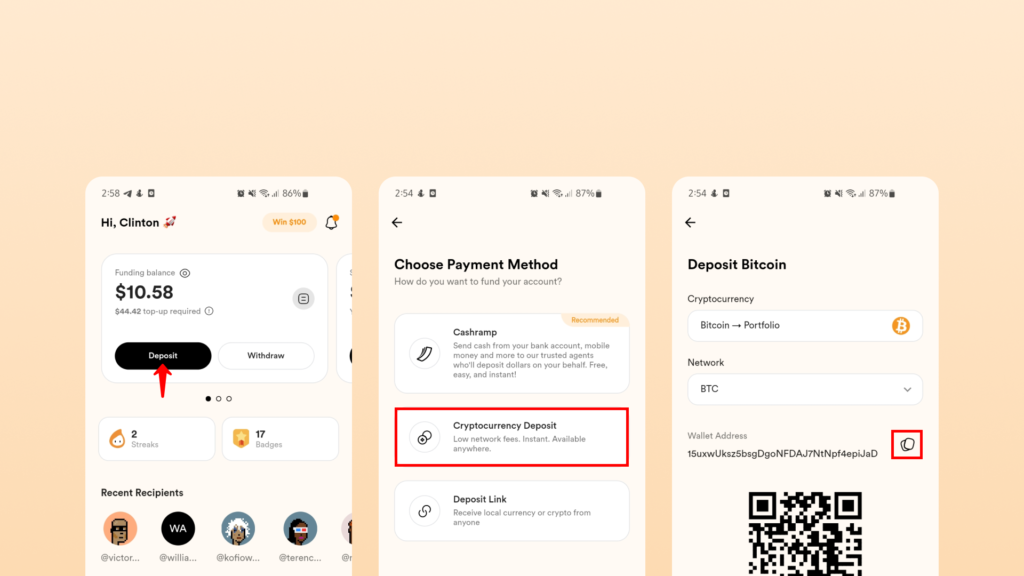 Step 2: Buy Bitcoin on Cash App. Here's how to do so:
Open Cash App. Tap "Buy Bitcoin" on the Home page
Tap "Buy". Choose the dollar amount of BTC you want your recipient to receive the GHS equivalent of, and tap "Next"
Confirm your Bitcoin purchase by tapping "Confirm"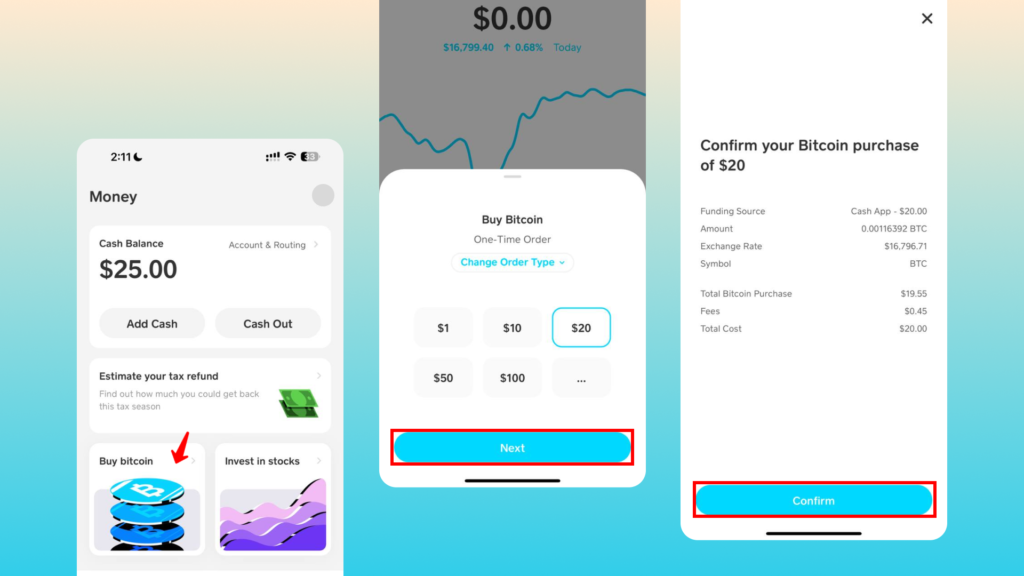 Step 3: Withdraw Bitcoin to Accrue. Here's how to do so:
Toggle from USD to BTC by tapping "USD" on your Cash App home screen.
Select Bitcoin. Enter the amount of Bitcoin you want to withdraw (you can toggle between BTC or USD)
Tap Send to enter the external wallet address manually. Enter the Accrue Bitcoin wallet address you copied in Step 1 of this guide.
Tap the wallet address to confirm. Tap "Next"
Select a withdrawal speed. Tap "Confirm" & Send to initiate your withdrawal.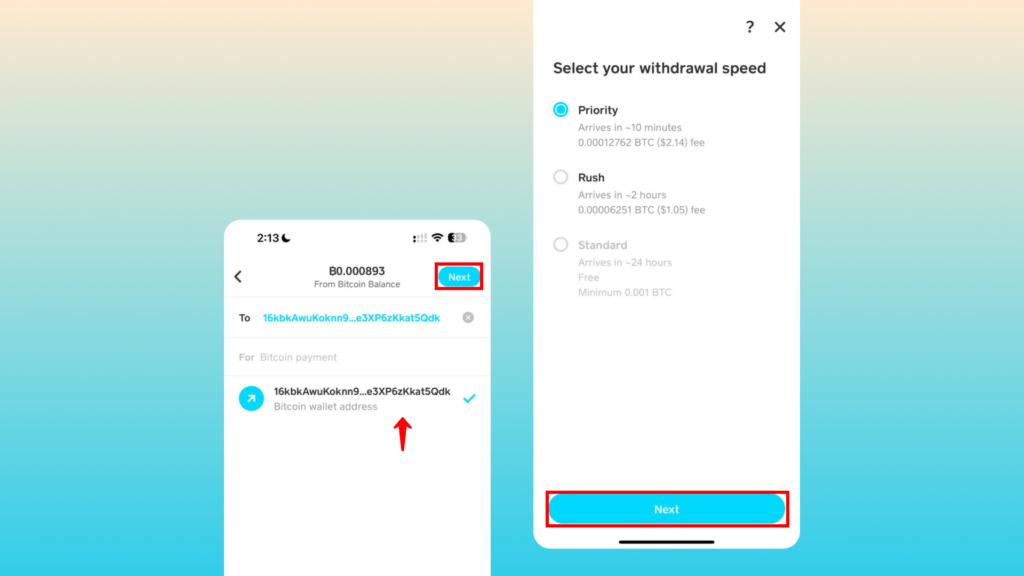 Roughly 10-20 minutes after sending Bitcoin from Cash App, you should receive a notification from Accrue informing you that we've received the bitcoin you sent
Because you toggled on auto liquidation of crypto deposits, your BTC will be automatically sold, and USD will be credited to your Funding Balance
Step 4: Withdraw local currency to your bank or mobile money account. Here's how to do so:
Go to the "Home" screen. This is the screen shown whenever you log in to Accrue
Tap "Send Money," and then tap "Send local currency"
Choose "Ghana" as your destination
Choose from the list of agents who you want to process your payment. Follow the payment instructions
An agent will accept the payment request, and shortly after, you or your beneficiary will receive cedis in your payment method of choice.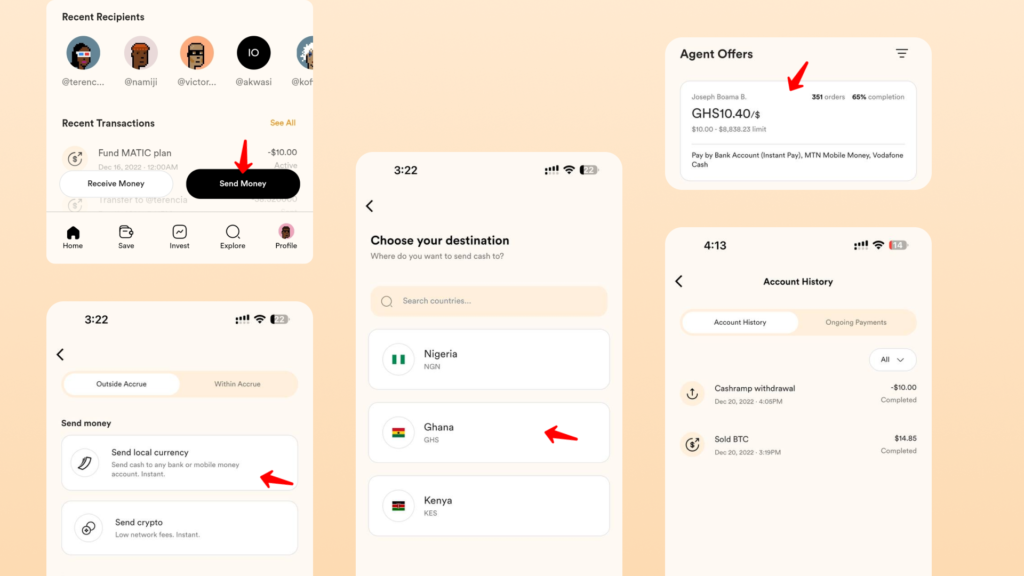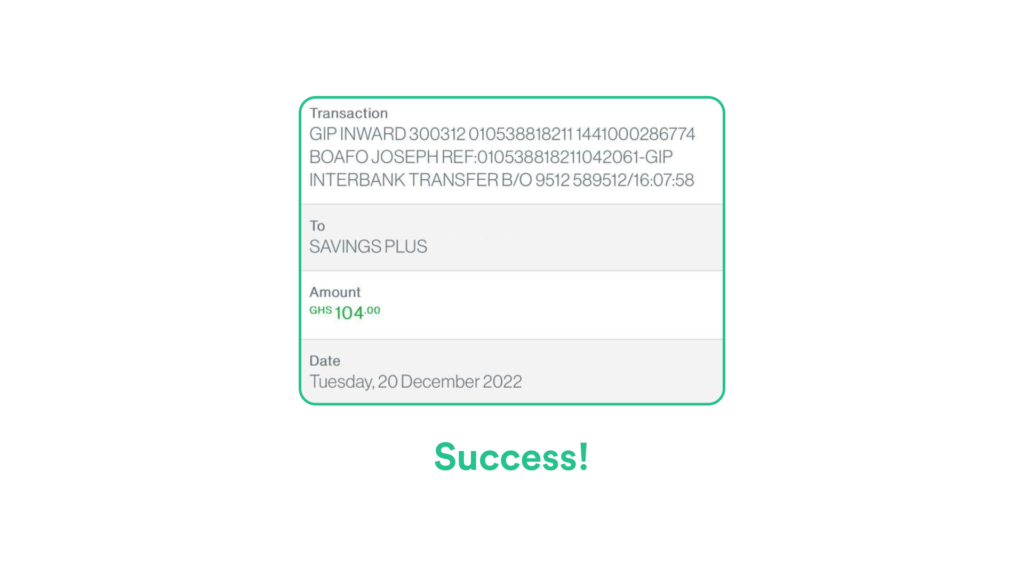 Please feel free to reach out to us at hello@useaccrue.com if you have any questions!