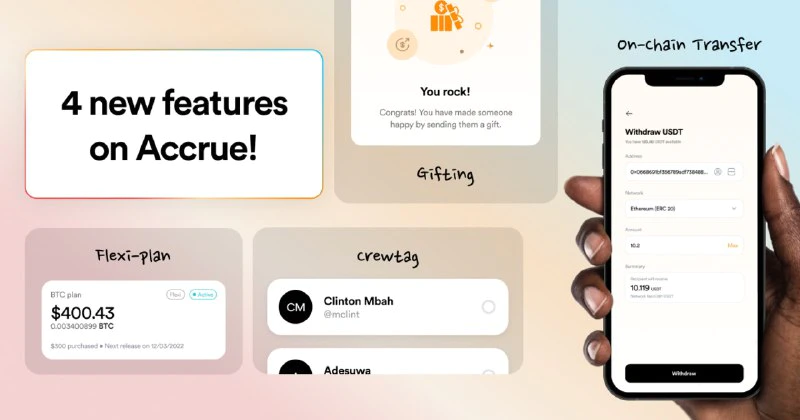 On most days at Accrue, we work tirelessly to listen to our users' pain points, improve their everyday experience, and create innovative additions. This period has not been any different, and we are glad to announce a few new features.
Last week, we announced our global launch – anyone anywhere in the world can now use Accrue. Since our announcement, we haven gotten signups from Ghana 🇬🇭, Kenya 🇰🇪, South Africa 🇿🇦, Tanzania 🇹🇿, Nigeria 🇳🇬 etc. Cool, yeah?
This week, we are glad to announce further upgrades and new features on the app. Excited yet? Let's get to it.
Flexi-plan
Flexi plan on Accrue is a feature that lets you buy a one-off lump amount. Unlike the automation investment plan on the app, you can buy manually, and it doesn't have to be recurring. We created Flexi plan to help you purchase lump-sum amounts when you believe the market is at a great price you'll like to take advantage of.

On-chain transfers
You can send out BTC, USDT & ETH from your Accrue wallet to any other wallet of choice. This means that you don't have to withdraw naira when your investment plan matures!

Crewtag transfers
Essentially, crewtag is the same as a username, but we're cool, so crewtag! Here are two things you can do with a crewtag:
You can send your loved one $. 
You can send your loved one any crypto or stocks assets.

Gifting
Giving financial gifts like investment plans are among the most valuable and thoughtful ways to gift loved ones. These gifts can, over time, appreciate. That's why we created this gifting feature to enable users to give the best gifts – gifts that keep on giving.
We always have things up our sleeves, so keep your ears peeled because we'll be announcing many more exciting things at the end of this month!
Let's Accrue 🚀