Navigating a crappy bear market
Ever been a human being before? You see how there are super high days filled with good vibes and also really low days where you want the whole world to pause while you catch your breath. Ever bought crypto before? See how there are high days where we all know wagmi. Do you also see how there are low days, like this, where the market decides to catch its breath?
The bear market is not an abnormality; It's part of the whole package. Many people believe that we will always be on our way to the moon. Catching your breath on a never-ending journey to the moon is still very important. So I guess it's okay that crypto & stocks have paused to catch their breath.
Here's some data on previous market cycles:
2013-2015 BTC: $1,127 –> $200 (-82%)
2017-2018 BTC: $19,423 –> $3,217 (-83%) ETH: $1,448 –> $85 (-94%)
Current cycle: BTC: $67,167 –> $27,682 (-59%) ETH: $4,815 –> $1,466 (-69%)
Here's What You Should Do
Ever bought something you didn't really want because it was on sale? Notice how it becomes more attractive because the price is suddenly lower? For solid assets, the dip isn't a threat; it is an opportunity if you invest the right way. With buying solid assets like bitcoin, the same reasoning applies.
The best way to invest during a bear market is dollar-cost averaging. It simply means investing the same dollar amount in a particular asset regularly, for example, buying $5 worth of bitcoin every day for two years.
Go for solid assets: Only invest in solid assets; this is not the time to speculate and test out different experiments. Choose assets that will stand the test of time. Some great assets are Bitcoin, Ethereum, Tesla, Apple, etc.

Make dollar-cost averaging your best friend: Nobody knows the best time to buy an asset. Not you, me, or even the people you consider expert investors— the wealthiest investors in the world use dollar-cost averaging to accumulate wealth while managing risks. You'll most likely be wrong if you try to time the market.

A more conservative way is to regularly invest money in the market using a process known as dollar-cost averaging. Dollar-cost averaging is the practice of investing money in equal quantities over time. This smoothens out your buying price over time, ensuring you don't invest all of your money in a stock or crypto when it's at its peak.

Bear markets are indeed frightening, but the stock market has shown that it will eventually recover. Bear markets can be fantastic opportunities to pick up stocks and crypto at reduced prices if you change your mindset and focus on prospective gains rather than probable losses.

Get started now.

Have the right mindset: There are two kinds of people: those who think Bitcoin is on sale and those who believe the world has come crumbling down because Bitcoin is no longer at $67k. Perspective matters a lot; without the proper perspective, you might miss an excellent opportunity to build wealth in the long run. In 2020, we all wished we bought Bitcoin in 2017. Well, another 2017 might just have presented itself.

In December 2018, Bitcoin was at one of its lowest points – $3,236. However, here's what would have happened if you bought $1 worth of Bitcoin every day starting then.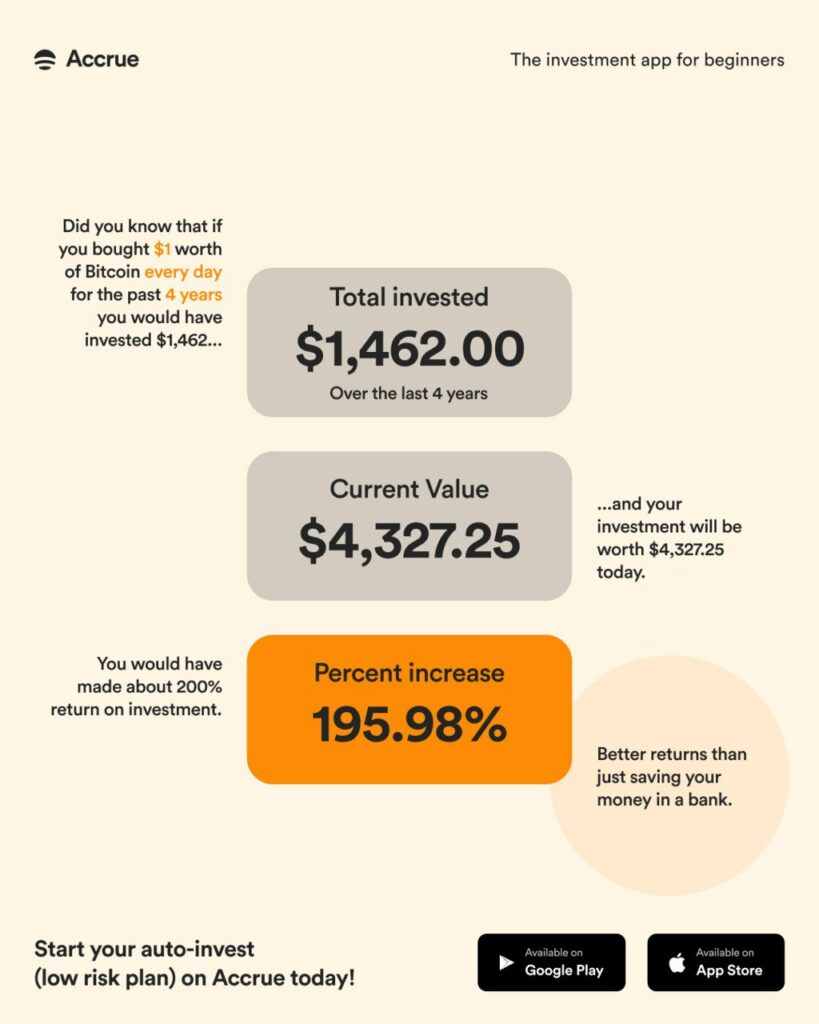 Play the long game: Bear markets test all investors' resolve. While these times are difficult to bear, history indicates that the market will rebound. If you're saving for a long-term goal, like retirement, the downturn markets you'll face will be nothing compared to the bull markets. Money for short-term goals shouldn't be invested. Even though it's difficult to resist the urge to sell stocks when markets fall, it's one of the finest things you can do for your portfolio.

To play the long game, you have to invest the right money. You can't invest the money you need for the short term. Money for your living expenses shouldn't be put into investing. Only invest what you can afford to leave for the long term.

Accrue is the investment app for beginners. Start investing today