If you're an individual or a small business owner that uses Accrue as an account for receiving and sending money across Africa, then you've probably considered just how neat it'd be to have others (especially non-Accrue users) be able to pay money directly into your Accrue account.
We're excited to announce Deposit Links — yet another gentle introduction that allows you to easily receive local currency (auto-converted to USD stablecoins) and crypto from anywhere in the world. You can withdraw to your local currency in minutes at any time.
Unlock a multi-country footprint in seconds 🌍
Being able to receive local currency payments from anyone unlocks a smorgasbord of potential for small businesses. As a small business owner, you immediately unlock access to new (underserved) markets with customers whom you can sell your goods/services and receive payments from instantly.
Gaining this multi-country footprint expands your reach, allows you to transact with international customers easily, and exponentially grows your revenue base.
Consolidate your money easily 💸
As an individual, you no longer need to wrangle several payments from your employer, clients, friends, or loved ones before consolidating everything on Accrue. Anyone who wants to pay you (whether in local currency or crypto) can send it directly into your Accrue account instantly (no signup required!).
Receive local currency instantly and for free! 🥳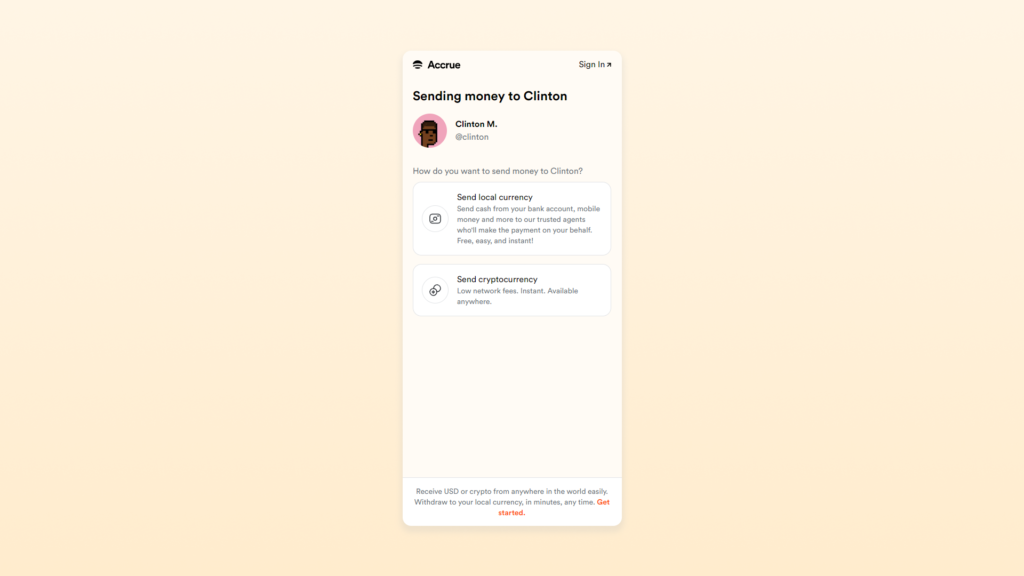 To get started:
Make sure you've got the latest version of the app
Head to Home > Receive Money
Tap "Share deposit link" and share it with anyone who needs to send you money.
For example, here's my own deposit link. Feel free to send something light 🙂
Give it a go, and let us know your thoughts in our Community Telegram or Twitter!